If you've been doing your research, or even just listening to others talk about their futures, you may hear some people label certain institutions as "Beauty Schools" and others as "Cosmetology Schools."
Confusing right? So what is the difference between the two?
Guess what- NOTHING! While they may sound different, they are both the same thing as they help with the process of beautifying clients.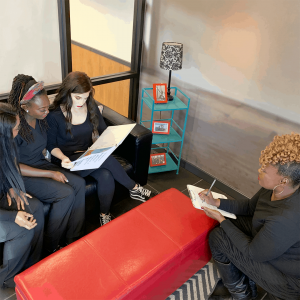 WHY THE BEAUTY INDUSTRY?
If you want an industry that offers a wide-range of income potential, a flexible work schedule, and the opportunity to be your own boss … then this industry is PERFECT for you!
This industry is consistently ranked as one of the best careers and provides individuals with an income that tends to be recession-proof. After all, people will always have hair and it will always need to be cut and styled!
As a licensed professional, you can live anywhere in the country*, have a variety of career options available to you, and get to be fun and creative with your work. What can be better than that?!  *Check with the Board of Cosmetology in the state that you are moving to in order to find out if more training is required.*
What's in our program?
Here at Kenneth Shuler, we have four levels to our cosmetology program- the skill, design, style, and master levels.
[btx_image image_id="22986″ link="/" position="center"][/btx_image]
What's in it for me?
Our students receive customized tool kits that include tablets for online learning!
The program focuses on modern color techniques, Redken and American Crew cutting systems, Georgia, North Carolina, and South Carolina state board preparation, and teaching our students the ProsperU Business Program to help them learn how to run and manage their own salons.
We help students with their resumes, assist them in putting together a portfolio for potential employers to see, and teach them basic business skills such as clientele building.
[btx_image image_id="22987″ link="/" position="center"][/btx_image]
Okay, but I want more info about the cosmetology program!
Submit your information and speak with an admissions rep by clicking: here
Are you ready to start?[btx_button size="medium" full_width="true" link="/ https://kennethshuler.com/admissions/enroll" icon=""]Learn more![/btx_button]